Established in 1957 by the Patriot-Poet-Philosopher, Late Bhai Ragbir Singh Bir, Dagshai Public School is located at a cool and bracing height of 6000 feet above sea level, in the green environs of Himachal Pradesh, which is less than 2 hours journey by car from Chandigarh. It is a residential, co-educational english medium school affiliated to The Council for Indian School Certificate Examination (CISCE) and admits students from LKG to class XII.
The school provides modern education with a strong emphasis on moral and ethical values, nurturing character-building, development of mental and physical faculties and all-round holistic development of children.
Our Founder and Vision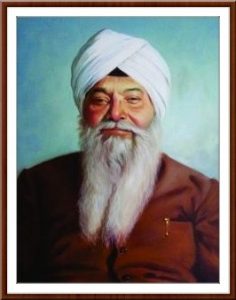 Bhai Ragbir Singh Bir (1896-1974) was an avid spiritualist, social reformer and a successful businessman. He is best remembered for the dozens of books he wrote on various aspects of spirituality, morality and philosophy. He set up the Atam Science Trust and founded and edited the monthly magazine "Atam Science".  His way of disseminating the message of Gurbani in a simple, homely language made him an immensely popular author.
Bhai Ragbir Singh Bir had the vision and foresight to create an institution which imparts formal education to children along with instilling spiritual and moral values.  In 1956, he donated his life-time savings to realize his long-cherished dream of establishing such a residential School at Dagshai.
DAGSHAI is a picturesque hill station situated on top of a ridge, at a height of 6,000 ft. This secluded town is 55 kms from Chandigarh, and 6 kms from Dharampur. Dagshai is one of the oldest cantonments established by the British. Its pristine air is a welcome change from other crowded and polluted cities.
The campus of DAGSHAI PUBLIC SCHOOL is spread over 25 acres consisting of old heritage buildings and a number of playing fields. It has three hostels for boys of different age groups and a beautiful hostel for girls. The main academic block is located on the crest of a spur with a remarkable 270-degree view. The kindergarten block has its own play area in a large quadrangle.
Dagshai Public School takes great pride in its low Teacher-Student ratio, thus ensuring that every child gets all the personal attention required.