Established in 1957 by the Patriot-Poet-Philosopher, Late Bhai Ragbir Singh Bir, Dagshai Public School is located at a cool and bracing height of 6000 feet above sea level, in the green environs of Himachal Pradesh, which is less than 2 hours journey by car from Chandigarh. It is a residential, co-educational english medium school affiliated to The Council for Indian School Certificate Examination (CISCE) and admits students from LKG to class XII.
The school provides modern education with a strong emphasis on moral and ethical values, nurturing character-building, development of mental and physical faculties and all-round holistic development of children.
Our Founder and Vision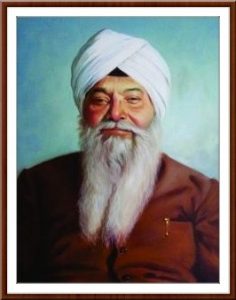 "In an ever-changing world of stress and competition, we want to provide our children with the tools that ensure they remain successful and grounded for the rest of their lives"
For a person to become a successful human being they need to excel in the external world – their academics, careers and professions, and in their internal world – their strength of character, values and principles. Dagshai Public School was founded with the vision to impart true holistic education to help children succeed in all aspects of life. This philosophy led Sardar Raghbir Singh Bir (7th Oct 1896 – 14th April 1974 ) to create a one-of-a-kind educational institute.
Sardar Raghbir Singh Bir was an avid spiritualist, social reformer and a successful businessman. He is best remembered for the dozens of books he wrote on spirituality, in the Punjabi language, based on his deep study of Sri Guru Granth Sahib & many other books on  religion & philosophy. All the books authored by him , have since been translated in English , for the convenience of the English knowing people , all over the world.
His vision for an evolved system of education is achieved through :
An experienced team of teachers, state of the art teaching facilities, innovative learning and technologically advanced classrooms 
Personality development through a plethora of extra-curricular activities
Spiritual teachings and practises integrated into the day-to-day lives of the students
Dagshai Public School uses the principles of Divinity and its key values of equality, love, honesty, duty and devotion to provide a strong moral and spiritual foundation for the children, in the true spirit of universal brotherhood